THE FILMMAKERS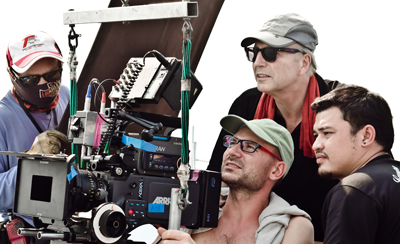 Peter Fudakowski – Director / Writer / Producer
Secret Sharer is Peter Fudakowski's first feature film as director. He was also the screenwriter. Peter started writing screenplays in 1994 and, together with his script editor and wife Henrietta, has developed and produced numerous feature films, including Tsotsi (2005) which won the Oscar® for Best Feature Film in a Foreign Language.
Peter studied Economics at Cambridge University where he was President of the Union Society. He gained his MBA at INSEAD, Fontainebleau, and started his working life as a banker. But his passion has always been for feature films, so his career in banking was mercifully short.
As an Executive or Associate Producer, Peter was involved with The Last September (1999) starring Maggie Smith, Fiona Shaw, and Michael Gambon; Bugs 3D in IMAX (2003)  narrated by Judi Dench; In My Country (2004) starring Juliette Binoche and Samuel L. Jackson; Keeping Mum (2005) starring Rowan Atkinson, Kristin Scott Thomas and Maggie Smith; Piccadilly Jim (2005) starring Brenda Blethyn, Tom Wilkinson and Sam Rockwell; Hysteria (2011) starring Maggie Gyllenhaal, Jonathan Pryce and Rupert Everett.
In 1985, Peter and Henrietta set up their own production company, Premiere Productions which is still in the business of feature film production and finance. Peter is also CEO of the UK Film & TV Production Company PLC which produced Secret Sharer. Peter and Henrietta are currently developing their next feature film, Coram's Children, which is about three childless men, Thomas Coram, George Frederic Handel, and William Hogarth who set up the first Foundling Hospital for abandoned babies in London during the mid 18th century. Peter and Henrietta have two children, Adam - an inventor married to Katie, a barrister, and Kasia – a sculptor. They are also blessed with two identical grandchildren who have been promised roles in Coram's Children.
Tom Waller ­– Producer
Tom Waller graduated from the Northern Film School in England with a PGDip in Film Production. In 1996 he launched De Warrenne Pictures with the aim of developing high-quality feature films. His feature film debut, Monk Dawson(1997), based on an award-winning novel by Piers Paul Read, received much critical acclaim and was distributed on television worldwide.
After completing the MEDIA Programme's EAVE Audio-Visual Production and Co-Production scheme in 2000, Tom eventually moved back to Thailand where he was born. He has been working as a feature film producer there now for almost 10 years, associated with acclaimed titles that include Butterfly Man (2002), The Elephant King (2006) and Thomas Clay's Soi Cowboy (2008) which was selected for the Cannes Film Festival in Un Certain Regard.
Tom still administers and manages De Warrenne Pictures, which provides production services in Thailand on international films, as well as playing a pivotal role in managing production and location shooting, such as on Jon Amiel's Creation (2009), for which he served as a line producer, and Elephant White (2011) for Avi Lerner's Millennium Films. He also returned to his passion for directing recently with the award-winning Mindfulness And Murder (2010), his Thai-language cinematic debut.
Michal Kwiecinski – Co-Producer
Michal Kwiecinski was born in 1951 in Warsaw, Poland. He received his PhD in organic chemistry in 1981, before graduating from the National Drama School in Warsaw, where he majored in directing. He has directed several plays for TV and theatre as well as three operas for the Warsaw Chamber Opera. He is founder of Akson Studio, Tilsa and Arka Film companies, specializing in producing plays for TV and theatre, as well as documentaries, feature films and TV series. His companies have been involved with more than 150 titles such as drama, adaptations, outdoor and studio projects. He has worked with such luminaries as Andrzej Wajda, Barbara Sass, Leszek Wosiewicz, Filip Zylber, Teresa Kotlarczyk and Izabella Cywinska.
In 1998 he was awarded the Minister of Culture and Art Award for directing the play Tailor by Slawomir Mrozek. Since 2005, he has been Vice-Chairman of the Polish Film Institute Council.


Michal Tywoniuk – Director of Photography
Michal Tywoniuk studied at the Leon Schiller National Higher School of Film, Television and Theatre in Lodz, Poland. His first two feature films as Cinematographer were UFO In Her Eyes (2011) directed by Xiaolu Guo and The Butcher, The Chef And The Swordsman, directed by Wuershan, both filmed in China, before working on Secret Sharer.
Jaroslaw Barzan – Editor
Jaroslaw Barzan was born in Skierniewice, Poland in 1969. He has edited more than 30 titles including Pitbull which was nominated for a Polish Academy Award for Best Editing in 2006 and Lejdis in 2009. He also edited the box office hitLetters To Santa (2011) and The Winner (2011).


Guy Farley – Composer
Guy Farley, born in 1963 in Haslemere, England, is one of Europe's most prominent film score composers and musicians. To date he has scored many productions including Cashback (2006), Tula: The Revolt (2013) and L'uomo che sognava con le aquile (2006) and most recently Marks & Spencer's headline-making 2013 Christmas advertising campaign.
As a musically versatile composer and performer, Farley's soundtracks have included compositions of orchestral, world music, contemporary and pop genres.
Although he is an internationally recognised and much-respected composer in the film industry, Farley has also enjoyed a long career in the music industry and is famous for collaborations with acts such as Duran Duran, Amy Winehouse and Charlotte Church.

Badi Badi – Postproduction Animation
Badi Badi is an animation studio based in Warsaw, Poland, that rose to prominence through its highly successful work in advertising, short films and music videos. 

The studio came to Peter Fudakowski's attention by showcasing their talent in high-profile advertising campaigns for clients including HBO, Ferrero and T-Mobile. Although Secret Sharer is the studio's feature film debut, Fudakowski set the team the challenging task of generating CG imagery of aquatic effects in one of the film's climactic scenes.
Despite their relative inexperience in the field of feature films, the animators coped admirably with simulating these effects, impossible to film using live action techniques. In a stroke of good fortune, the software used to simulate similar effects in Titanic (1997) had recently come out of copyright, and Badi Badi was able to put these newly available tools to full use, convincingly animating the dramatic storm and water effects.

Pongnarin Jonghawklang – Production Designer
Pongnarin Jonghawklang was born in Nakhon Ratchasima, Thailand in 1973. He studied at Rangsit University in the Faculty of Fine Arts, majoring in Product Design. He worked as a freelance Interior Designer before turning to work on films such as Tom Yum Goong (2004) and music videos like Tata Young's celebrated "El Nin-Yo!" in 2006 for Sony BMG Music Entertainment. He followed this with assignments collaborating with producer Tom Waller on Soi Cowboy(2008), Creation (2009) and Bitter/Sweet (2009) as Art Director, as well as bothThe Prince And Me: The Elephant Adventure (2010) and Mindfulness And Murder(2010) as Production Designer. In 2011 he worked as a local Art Director on The Hangover 2 for Warner Bros.